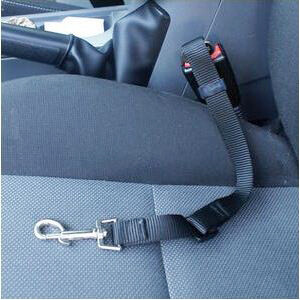 Seat Belt for your dog - Keeping Safe/stopping the worst from happening
4 Ur Paws
$15.00
or 4 interest free payments of $3.75 with
learn more
Ever thought what might happen to your dog in a car accident?
They become a flying object.......they can hurt themselves or worse, could kill you, if they were to hit you in the back of the head.
They will stay with your car - not escape - run out of fear.
We seat belt ourselves, our human kids, why not our loved pets?
Great for keeping your dog/s in their place. No more bouncing around the car. Easy when you get out, as they can't get out.
Best of all in an accident, they won't fly past you. Protecting your family from a flying missile. This is a great way to keep everyone safe, while traveling away from home.
One end has the clip for seat belt plug and other end clips onto your dogs collar or harness.

Colour Black
SKU: 10032